We continue to spotlight donations from dealers, members, and staff.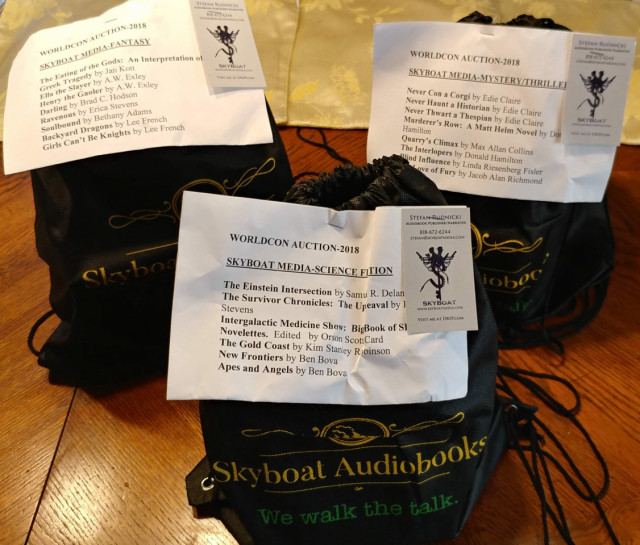 Oh man, but do we have a some great dealers coming to Worldcon 76!  And Skyboat Media is definitely at the top of my "Big Givers" list!

Today's mail brought three bags of mystery (as well as SF and Fantasy) in what should be a show highlight. Each bag contains seven or eight audiobook packs by Skyboat Media (https://skyboatmedia.com/) divided into those three categories.  With a value of over $125 each, we're looking forward to making a few commuter's long commutes a bit easier as they drive along having these wonderful books read to them. 
The bags will be auctioned separately, but should you miss out on winning them all you can visit Skybox Media in our dealer area.
Continue to see the books covered and read more!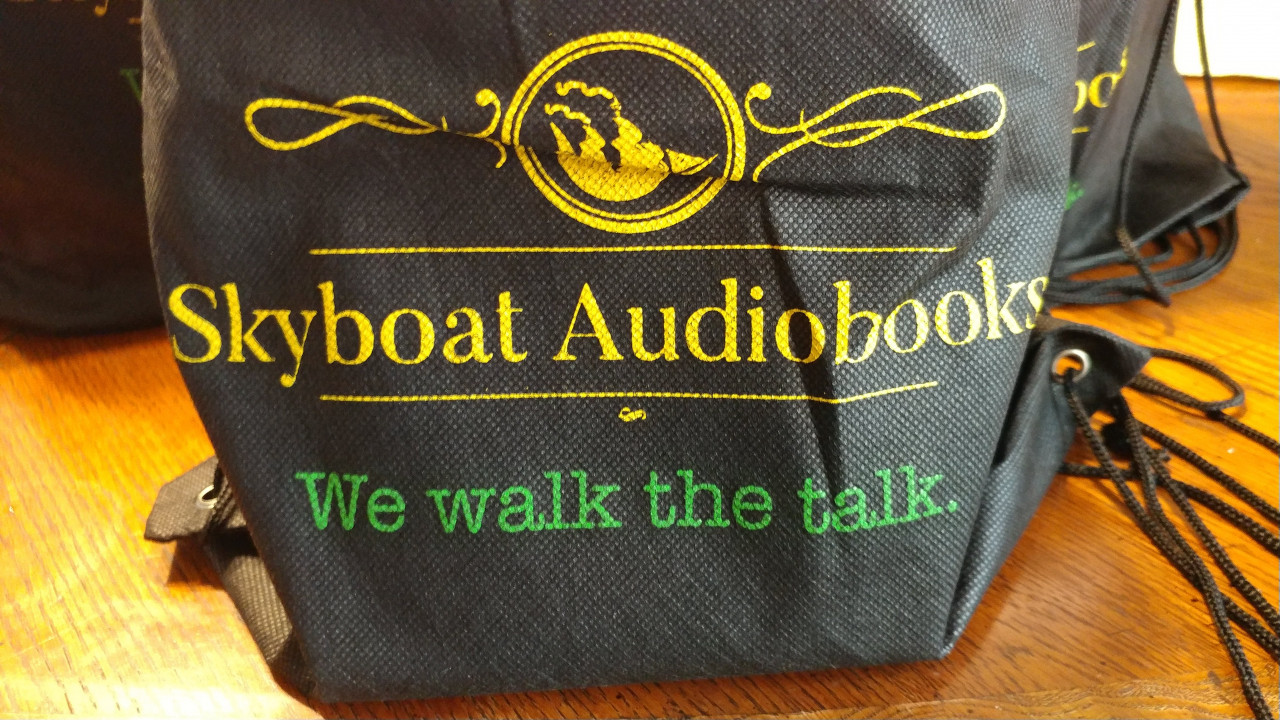 Each bag is a string backpack. So convenient for carrying them around Worldcon 76 after the auction.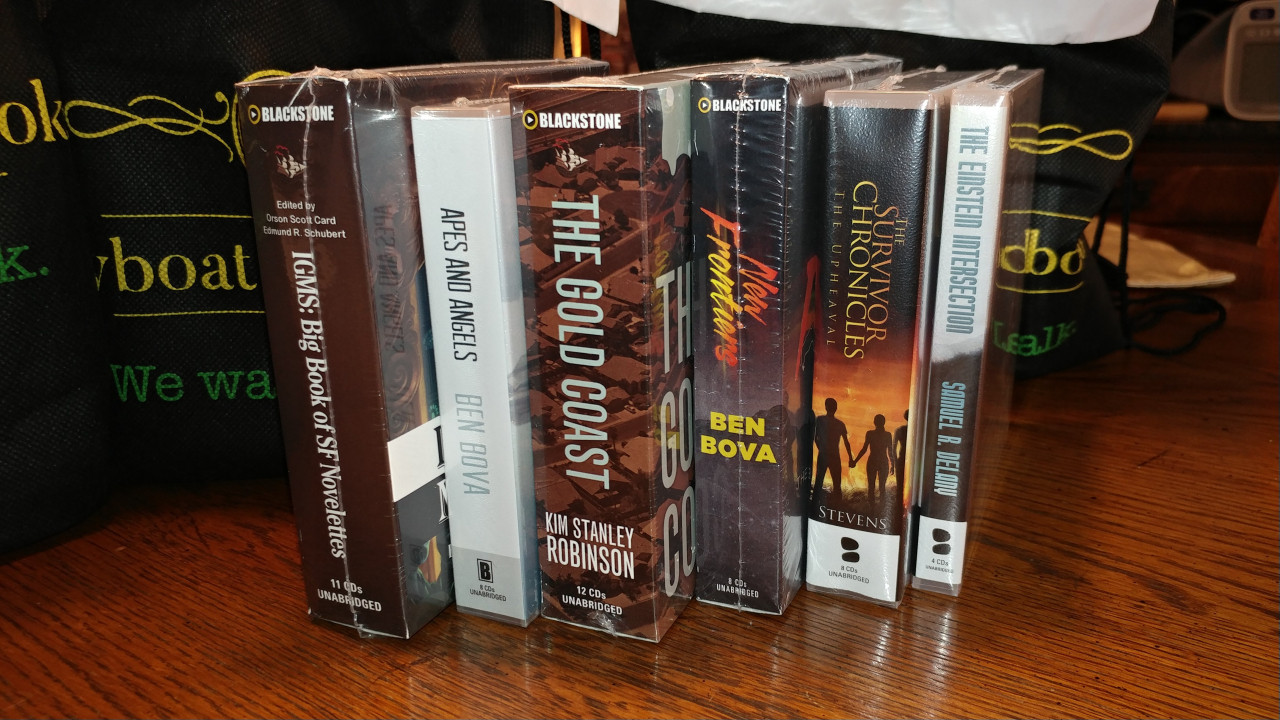 SKYBOAT MEDIA-SCIENCE FICTION
The Einstein Intersection by Samuel R. Delany
The Survivor Chronicles:  The Upheaval by Erica Stevens
Intergalactic Medicine Show:  Big Book of SF Novelettes.  Edited   by Orson Scott Card
The Gold Coast by Kim Stanley Robinson
New Frontiers by Ben Bova
Apes and Angels by Ben Bova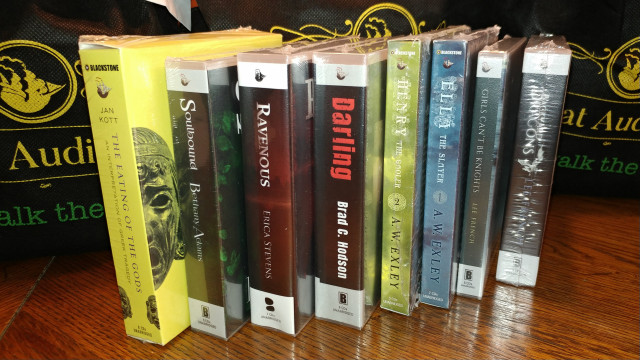 SKYBOAT MEDIA-FANTASY
The Eating of the Gods:  An Interpretation of Greek Tragedy by Jan Kott
Ella the Slayer by A.W. Exley
Henry the Gaoler by A.W. Exley
Darling by Brad C. Hodson
Ravenous by Erica Stevens
Soulbound by Bethany Adams
Backyard Dragons by Lee French
Girls Can't Be Knights by Lee French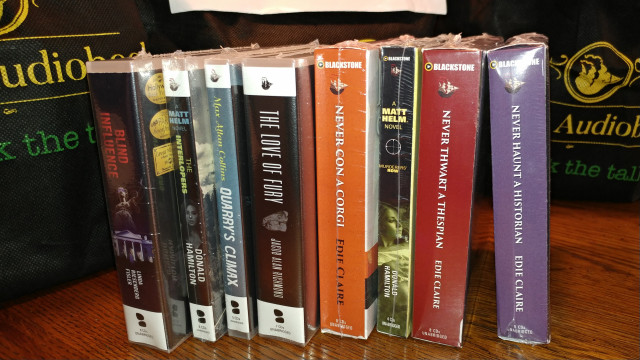 SKYBOAT MEDIA-MYSTERY/THRILLER
Never Con a Corgi by Edie Claire
Never Haunt a Historian by Edie Claire
Never Thwart a Thespian by Edie Claire
Murderer's Row:  A Matt Helm Novel by Donald Hamilton
Quarry's Climax by Max Allan Collins
The Interlopers by Donald Hamilton
Blind Influence by Linda Riesenberg Fisler
Remember, it's all for a worthy cause!  Bid big or go home empty handed!
Again, I hope you'll come out and support the Worldcon76 in San Jose Charity Auction, the beneficiary of which is the Alzheimer's Association. If you're a fan of fantastic art, unique collectables and just really cool stuff, there's sure to be quite a few items that you'll need to add to your collection.
Learn more about the Charity Auction and the Alzheimer's Association here.