It is our privilege to show you what makes our area special.

Worldcon76 members can buy up to 2 tickets to each tour. Your second ticket can be used for anyone you like; they do not have to be a Worldcon76 member,  because experiences are best shared with friends.
Tour tickets will be advance sale only, via our registration system. To register for tours, follow these instructions to log into your registration account and make payments:
Enter your e-mail address in the Email Address field and press Continue. (Use the address you supplied when you registered.)
Select the person for whom you wish to buy tour tickets, and click Edit to the right of the name.
Select Upgrades and Add-Ons. Check the boxes for the tour ticket(s) you wish to purchase. Be sure to fill in any required items.
Repeat this process for any other members in your group for whom you wish to purchase tour tickets.
Press Continue and complete the payment process!
---
-- 2 tours, max 25 people each
Visitors to San Jose possessing peculiar sensibilities all are drawn to our local vortex of strangeness – The Winchester Mystery House. Located in the heart of Silicon Valley at the intersection of Victorian technology and Victorian weird, Sarah Winchester's folly is a mecca for explorers of steampunk and devotees of the fantastic. Two tours are offered: one in the morning when technology reigns, and a dinnertime tour when mystery takes over. The tours will focus on the strange innovative spirit that permeates the house and the sources of Winchester's compulsion to create, ornament, and augment her ever-growing structure. With elements of Lovecraftian chaos and Escherian paradox, the Winchester House is a monument to dark imagination.
To be followed with an exciting local meal stop.
Tue, Aug 14 8:30 AM - 12:30PM $70 -

Lots of room
Fri, Aug 17 3:30 PM - 7:45PM $70 - This bus is Full - A waitlist is available. Please contact 

This email address is being protected from spambots. You need JavaScript enabled to view it.

 to be added.
PARTICULARS:
The pickup location for the group tours will be at the VTA Stop in front of the McEnery Convention Center.
The $70 fee includes your Mansion Tour Ticket for $27 (Street Price is $39!) and the Bus Ride for $43.
The Dinner Stop is on-your-own.
Am I saying that you can't wear your Steampunk or Browncoat Regalia, take a bunch of selfies and turn them sepia in your favorite editor? No, I am not.
Yes, there are more treats and surprises that we're not telling you about.
Questions? tours@worldcon76.

org
SPECIAL NEEDS:
The Winchester House is open to all ages.
The Mansion Tour is not ADA Accessible, but that's the only part on the trip that isn't. There is still the Garden Tour (Exteriors of the Winchester Mystery House), Gift Shop and Museum to enjoy. We can accommodate you and you'll get your Mansion Tour Ticket fully refunded ($27 discount)!
Questions? tours@worldcon76.

org
---
-- one tour, 25 people max
This Tour is Full - A waitlist is available. Please contact

This email address is being protected from spambots. You need JavaScript enabled to view it.

 to be added.
Calling all Quantum Mechanics for Bosons, Beer and Burgers!
Built in 1962, The 
Stanford Linear Accelerator Center
 is our hometown particle accelerator.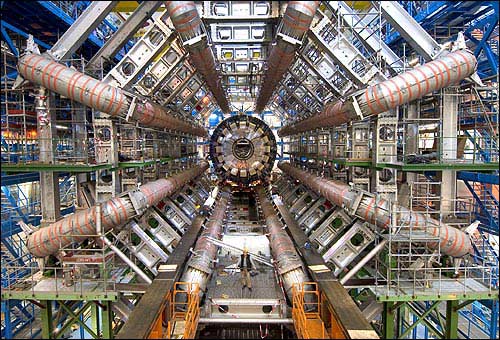 Who builds a 2-mile long must-be-perfectly-straight building in earthquake country? We do.
It's still the world's longest particle accelerator, has discovered fundamental building blocks of matter, created the first website in North America and is home to four Nobel Laureates.  
And if that wasn't awesome enough, we're capping it off with a leisurely lunch stop at the 
Alpine Inn Beer Garden
. One of the oldest businesses on the Peninsula, it's been a saloon, a gambling house, a stagecoach stop, roadhouse, speakeasy, and (like the Millennium Falcon) has changed ownership in a card game. Today it's a watering hole for Stanford Students. Hmmm, 17 beers on tap and we're doing all the driving. Decisions, decisions.
Thu, Aug 16 9:00 AM - 1:30 PM $40
PARTICULARS:
There is no charge for the SLAC Tour but we need $40 for the bus ride.
Lunch is on-your-own so, bring your beer money. I mean, lunch money.
Please bring a valid government issued photo-ID, such as a driver's license or a passport.
SLAC is a government facility with some restrictions on admission.
We will need to know your country of citizenship in advance to determine whether there are any restrictions on your admittance.
All visitors must wear closed-toed shoes and long pants.
Photography is permitted; however, tripods are not allowed on tours.
SLAC has no Gift Shop so, if you want a T-shirt to wear on the tour, just buy it ahead of time at their official Cafe Press Store. Buying a T-Shirt is optional and not required.
SLAC is an active research laboratory. Please stay with the guide at all times and do not touch any scientific equipment unless you want superpowers.
If you live locally and are able to sign up for a Public SLAC Tour, would you please wait until August to sign up for any remaining seats? Let's give more out-of-towners a chance to take this rare tour. Thanks a lot!
Yes, there are more treats and surprises that we're not telling you about.
Questions? tours@worldcon76.

org
More about the destinations:
SPECIAL NEEDS:
The SLAC Tour is open to ages 12 and up. If you're between 12-17, you must be accompanied by one of your parents also taking the tour. So, get 2 tickets.
The Alpine Inn is big on burgers but does have some vegetarian options: Garden Burger, Grilled Cheese, Garden Salad, Greek Salad, Fries, Onion Rings. And Beer. Beer is vegetarian.
Tours involve walking and climbing stairs. If you require assistance or have accessibility concerns, please contact us in advance at 

This email address is being protected from spambots. You need JavaScript enabled to view it.

 and tours@worldcon76.

org

. Adjustments can be made to the tour to accommodate all.
Questions? tours@worldcon76.

org
---
Silicon Valley Tours

What's better than a tour about computers in Silicon Valley? TWO TOURS about computers in Silicon Valley! We have two non-overlapping tours of the lifestyles of the rich and geeky. The Inner Loop will showcase our computing-related attractions in Santa Clara, San Jose, Cupertino and Sunnyvale. The Outer Loop will take you farther afield to sites in Menlo Park, Stanford, Palo Alto, and Mountain View. Hard Core Computer Geeks will want to take both tours. Your tour guide will be a real Tech Worker who has bought and sold property in Silicon Valley.

Silicon Valley Inner Loop Tour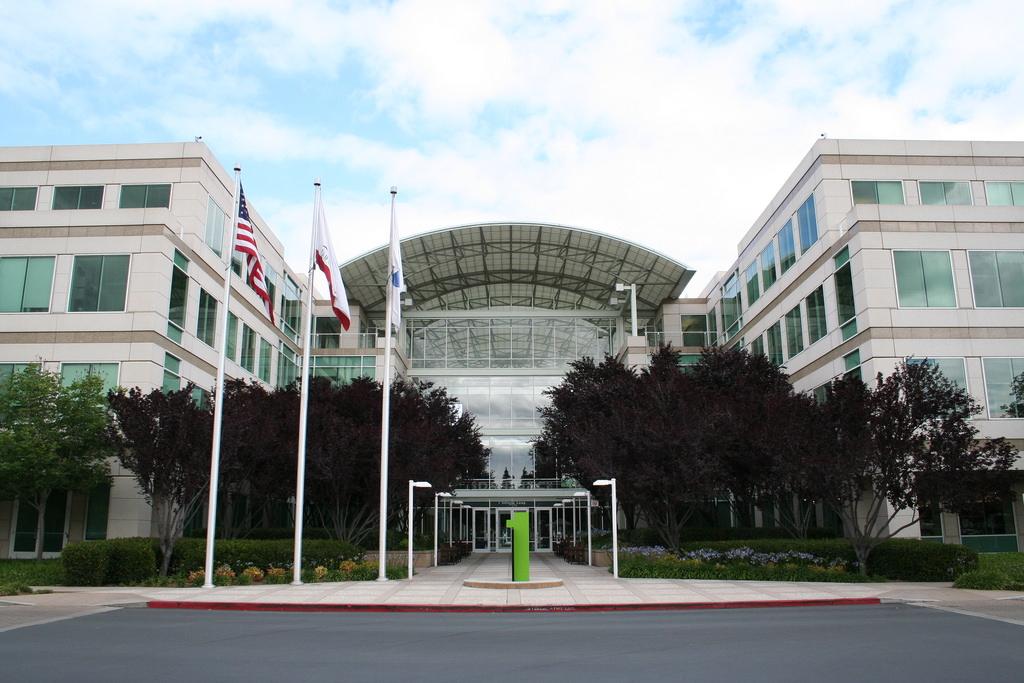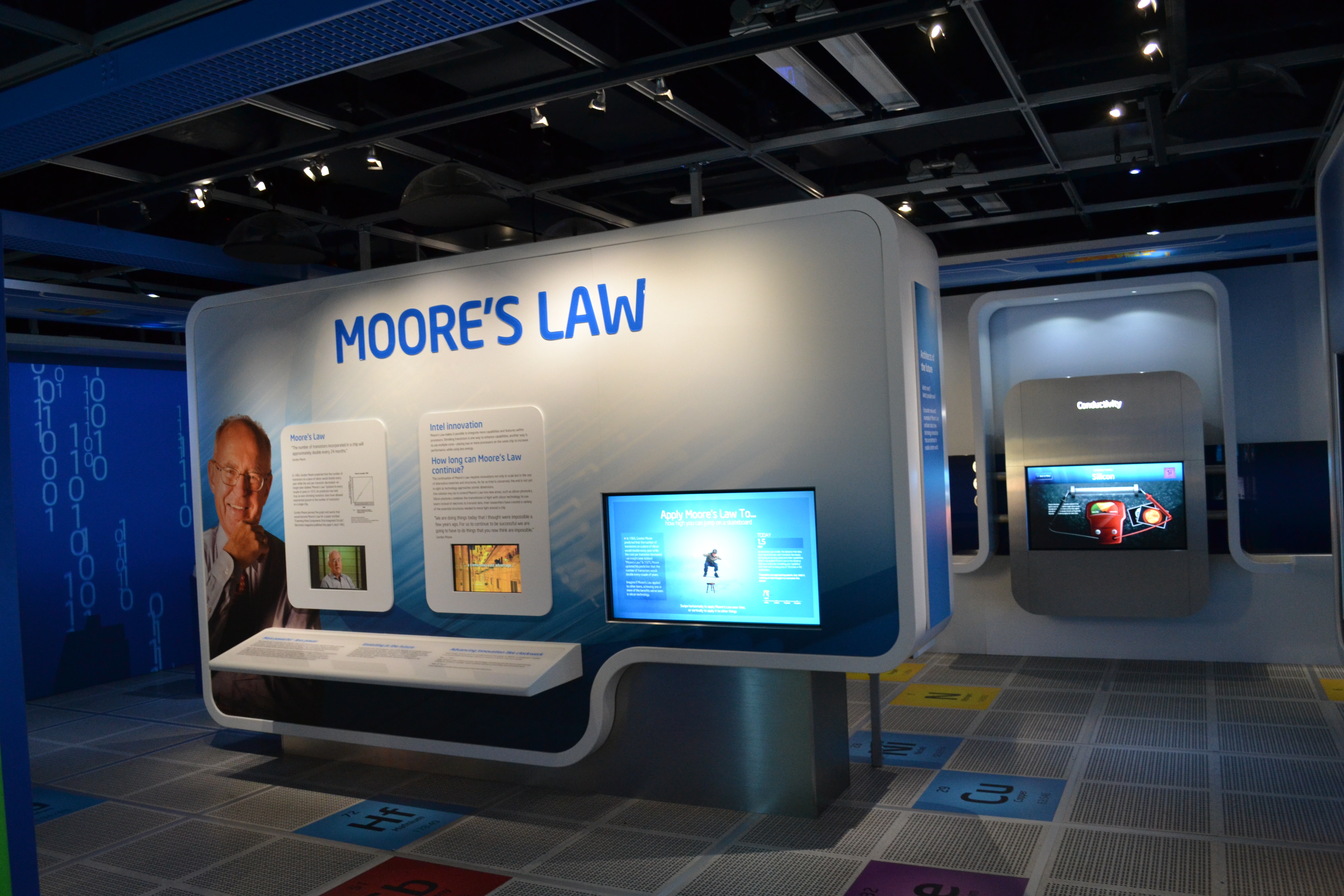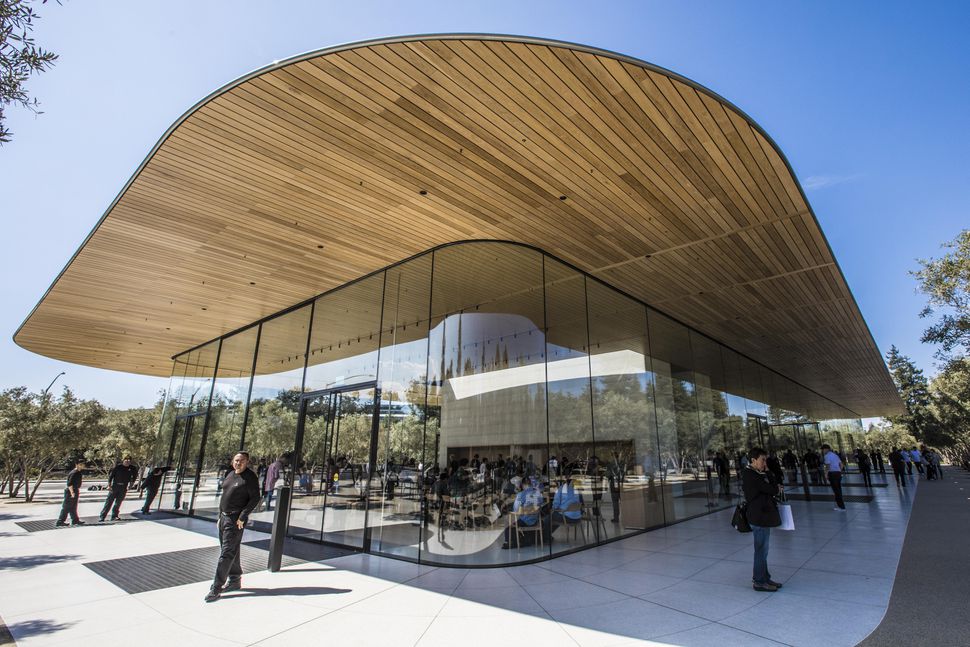 You will see: The Intel Museum, NASA Ames Visitor Center, Apple Infinite Loop, Apple Park Visitor Center and more!

Sat, Aug 18 10:30AM-3:00PM $50 Bus Ticket. All attractions are free. Space for 25 people - Lots of room
---
Silicon Valley Outer Loop Tour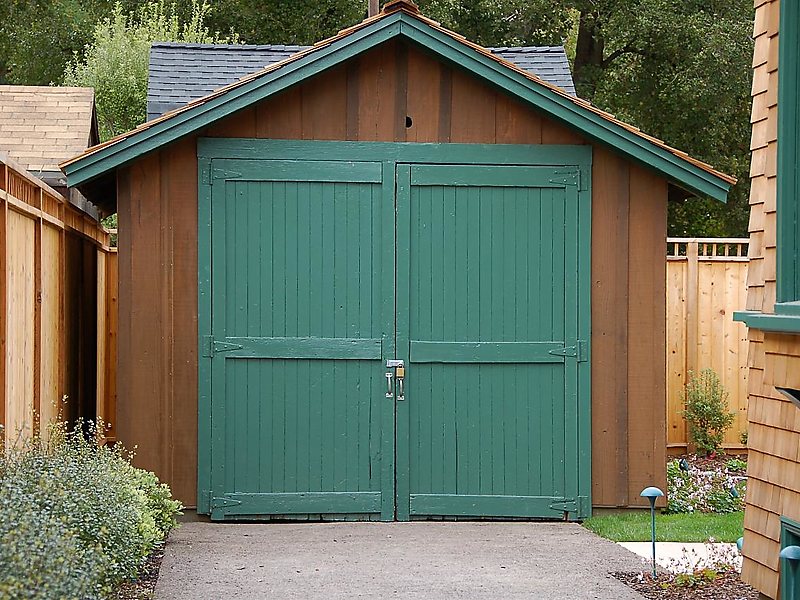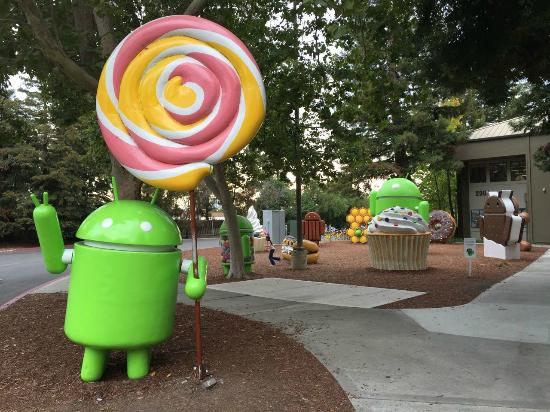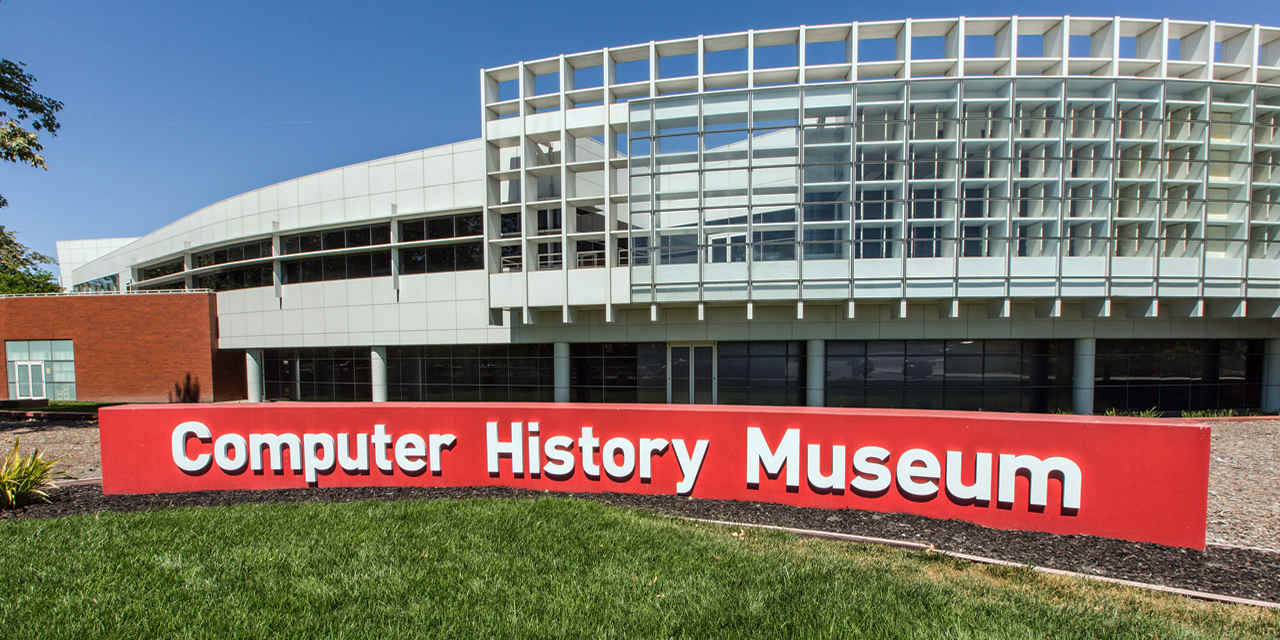 You will see: The Computer History Museum, Google Android Lawn Statues, Facebook "Thumbs Up" Sign, Hewlett Packard Garage, drive through Stanford University and more!
Wed, Aug 15 10:00AM-3:00PM $50 Bus Ticket plus $17.50 Computer History Museum Ticket = $67.50  Space for 25 people - Lots of room
PARTICULARS:
There is no charge for the Inner Loop attractions but we need $50 for the bus ride.

There is no lunch stop on these tours so your ticket price includes snacks on board.

Yes, there are more treats and surprises that we're not telling you about.

Questions? tours@worldcon76.

org
SPECIAL NEEDS:
All attractions on both tours are great for all ages.

All attractions on both tours are ADA accessible.

Questions? tours@worldcon76.

org
---
We've rented out the San Jose Brew Bike for a couple of trips; hopp on! (Get it? Hopp on?)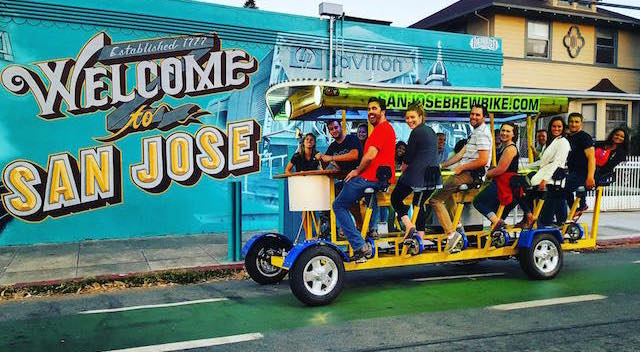 There are 10 seats that pedal and 5 seats that don't. Get a (six-)pack of friends together and join us on The San Jose Brew Bike!

Wed, Aug 15 6:30 PM - 9:30 PM    Ultimate 3-Hour Brew & Pub Tour      $30 (15 people max) - Lots of room
Fri, Aug 17 4:00 PM- 6:30PM Extended 2.5-Hour Brew & Pub Tour $37 (15 people max) - Lots of room

Like the idea of the Brew Bike but none of these tours fit your schedule?
Schedule your own tour and use discount code "Worldcon76"***

PARTICULARS:
The pickup location for the group tours will be at the VTA Stop in front of the McEnery Convention Center, the same place that bus tours leave from.
*** If you buy an a la carte tour (be sure to use the "Worldcon76" discount code), the pickup location will be just one block away at 132 Park Ave. San Jose, CA 95113 (Across the street from Morton's The Steakhouse).
Beer and snacks are on-your-own so, bring your beer money.
There is a weight limit of 285 pounds.
We need 6 peddlers to physically move the bike. We may have to cancel a tour if there's not enough people to pedal.
Yes, there are more treats and surprises that we're not telling you about.
Questions? tours@worldcon76.

org
SPECIAL NEEDS:
You must be 21 for a beer cruise.
There are 10 seats that pedal and 5 seats that don't. There's something for everybody!
Questions? tours@worldcon76.

org