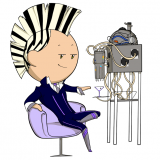 23 July, 2018


I directed the Program Division to take down the preliminary program information that was released yesterday evening. There were too many errors and problems in it to leave it up.
I am sorry we slighted and angered so many of the people we are gathering to meet, honor and celebrate. This was a mistake, our mistake. We were trying to build a program reflecting the diversity of fandom and respectful of intersectionality. I am heartbroken that we failed so completely.
We are tearing the program apart and starting over. It was intended to be a reflection of the cultures, passions and experiences of Worldcon membership, with room for both new voices and old. What we released yesterday failed to do that; we must do better.
Many of you have offered to help us do a better job. Thank you. We cannot accept all those offers, but yes, we will be turning to some of you to help us do it better this time.
We will continue to reach out to the Hugo Finalists we have missed connections with, to ensure any who wish to be on the program will have a place on it.
Chair, Worldcon 76 in San Jose