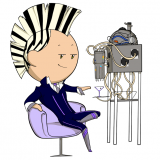 4 June 2021
To Whom it May Concern: 
 SFSFC AND JON DEL ARROZ HAVE SETTLED THE LAWSUIT MR. DEL ARROZ FILED WHICH INVOLVED HIS BEING BANNED FROM WORLDCON 76.  IN CONCLUDING THE DISPUTE, SFSFC WISHES TO ISSUE THE FOLLOWING STATEMENT:
 SFSFC acknowledges the importance of reputation, especially for a relatively new author, and regrets that its public statement about barring his attendance might have led people unfamiliar with Mr. Del Arroz and his work to infer that he is or was a racist. For that, SFSFC apologizes. This attendance ban was specific to the Worldcon 76 events produced by SFSFC, and Mr. Del Arroz has the same opportunity as other members of the public to register for future SFSFC events.  Worldcon 76 does not tolerate discrimination in any form -- including through cosplay -- based on but not limited to gender, race, ethnicity, religion, age, sexual orientation, gender identity, or physical/mental health conditions.  SFSFC firmly believes that healthy political discourse requires active, mutual, good faith participation by members of the community with differing opinions.

Kevin Roche
Chair, Worldcon 76 in San Jose
President, San Francisco Science Fiction Conventions, Inc.