Dawn is breaking over the OIympic mountains with a golden kiss of morning sunlight. We arose with songbirds and forest creatures bringing us coffee on rough hewn wooden trays.

 

Just kidding.

 

I awoke at 6, looked over at the other bed where a towering literary giant of the science fiction field is sleeping.

 

Why 6 A.M.? Well, one of the things they don't warn you about in the SF Author Maintenance Handbook, is the snoring. 

 

Fortunately a well aimed pillow from across the room solves the problem and we are ready for the next leg of adventure, excitement and really wild things (™ Douglas Adams, R.I.P.)

 

First order of business. Coffee.
 

Near Eugene we stopped at a rest site so producer A could 'shake the dew from his lily' (he's fancy. I just pee.). 

 

Turns out this rest stop is the home of the 'trees from all 50 states garden' where they take non-native species from around the continental US and plant them in one spot. 

 

I will presume the Oregon authorities made sure they weren't messing too bad with the local ecosystem. But who knows.

 

The positive upshot of all this was a lovely little walk around a gem of a tree garden. If you are heading down I-5 near Salem OR, worth the stop.  

 

We continue to spotlight donations from dealers, members, and staff
More generosity from our Worldcon dealers this morning.  This time from Steve Davidson and The Experimenter Publishing Company (publishers of
Amazing Stories
) and its licensee -
Futures Past Editions
books who are donating a set of their print anthologies, facsimile and classic novel editions.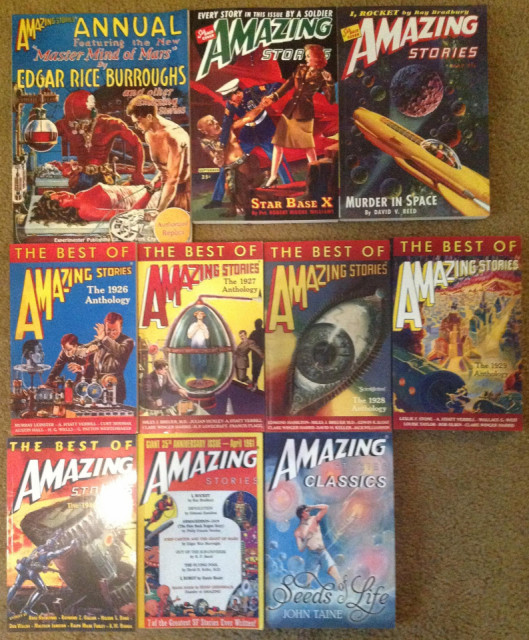 The final list should include at least ten (if not all) of the following titles depending on the dealer's inventory:
Day 1

 

Victoria B.C to Port Angeles WA.

 

The trip began with a 4 AM call.

 

"Steph. I don't think I'm gonna make it"

 

The Worldcon 76 Guest of Honour was white as a sheet and barely able to stand. It was my job to get him from Canada to San Jose in one piece and it was looking like the trip was going to be over before it began.

 

After six hours in the emergency room, we got the all clear and Spider finally got some needed sleep. Luckily so did I. 

 

The spirit of Fandom and SF must have been watching over us, because when he woke up he was his old self and willing to try to make the trip after all. (I on the other hand was about ready to pass out from stress and worry). 

 

 

After a whirlwind last spasm of packing, we were on our way with A the Producer riding in the backseat down to the Black Ball Ferry.

Worldcon 76 in San Jose, the San Jose Police Department, and the McEnery Convention Center Security are aware of the protest and counter protest that are planned to occur on Saturday afternoon adjacent to the convention center plaza. The San Jose Police Department, the center, and Worldcon 76 have discussed how to ensure that these demonstrations do not impact events inside the center.

The best course of action to maximize your safety is to simply avoid engaging either the protestors or the counter protestors. We encourage our members to consider alternate routes and entrances to the convention center that avoid the front plaza on Saturday afternoon. Convention volunteers will be available to assist you in accessing the center through these alternate entrances. As with any other convention, only properly credentialed members will be allowed into our convention spaces.

If you have any questions about this you can email This email address is being protected from spambots. You need JavaScript enabled to view it. or during the convention come by the Ombudsman office in room 112/113 or ask any staffer and they can direct you.